Planning a wedding can be great fun but it can also be hard work and more than a little stressful. When it comes to entertainment, is the venerable wedding disco the way to go?
Having worked on many weddings, as a photographer, as an event engineer and as a DJ, I've built up some thoughts I'd like to share. When I got married myself, and we planned our own celebration, I was determined that guests be given space and time to relax, eat, mingle and talk with one another, and get some dancing in if they so desired.
It can be a bit daunting to pick entertainment that works for a diverse crowd. You have lots of options, but most couples centre around music. But why do some weddings get it right, and some not?
I think the best receptions are planned around the guests' needs. OK, so you can be a bit selfish in your choices – it is your big day – but a truly magnificent party is when everyone comes together.
The Classic: a DJ for the Wedding Disco
The quick and easy option is to hit Google, search 'Exeter wedding DJ' or similar, and pick someone who checks out. An experienced DJ meets a lot of requirements. They know the drill. They've got the tunes. They (should) sound and look good. They'll probably assist with speeches and compere work. One call sorts it all, more-or-less.
So when doesn't this work? Sometimes the time-tabling doesn't suit people attending, especially if the disco kicks in after the meal and speeches, and stays loud until curfew. Sometimes the DJ doesn't adapt to the style you want (most only have one 'product'). Some people don't want to the DJ to impose their character on proceedings.
The Live Music Option
If you've got the budget for it, consider a live band. You may need to find £800-£2,500 for an experienced function band. There's no substitute for the presence and wow-factor that live musicians will give you. They'll probably offer you two 45- or 60-minute sets, and I recommend having a relaxed period in between. Book a band after seeing them perform (or at least watch some of their live videos).
If you want to have a country feel, and you will have a lively crowd, a ceilidh band will be way cheaper. The caller will rope lots of people in to big, fun dances.
DIY Discos for Wedding Receptions
I've seen a rise in what I call 'DIY discos'. With a subscription to Spotify etc. or just with a suitable music library, you can make playlists of exactly the music you want to enjoy. In fact, for my own wedding I built 13 playlists for different stages of the reception. Number 1 was for guests arriving, number 2 was the first dance, then another run of quieter music, a kids disco, then quieter music during the buffet, and so on. Several playlists had spare tunes to allow for the scheduling to stretch as needed. We chose the music to have appeal across the age-ranges of the guests. We scheduled quieter spells for people to take a break and socialise. To make it a bit slicker, I loaded the music into some DJ software to cut down the gaps on the dancing playlists.
If your budget is tight, you can just hire some speakers and disco lights off a local events company. Much better, if you can, to hire someone in to raise the production standards. When I've worked on weddings like this, I bring in a decent PA system and suitable lights. I make sure your occasion looks and sounds as good as it should. I will normally also make sure your speeches are clearly amplified and I'll put ambient lighting in, as appropriate.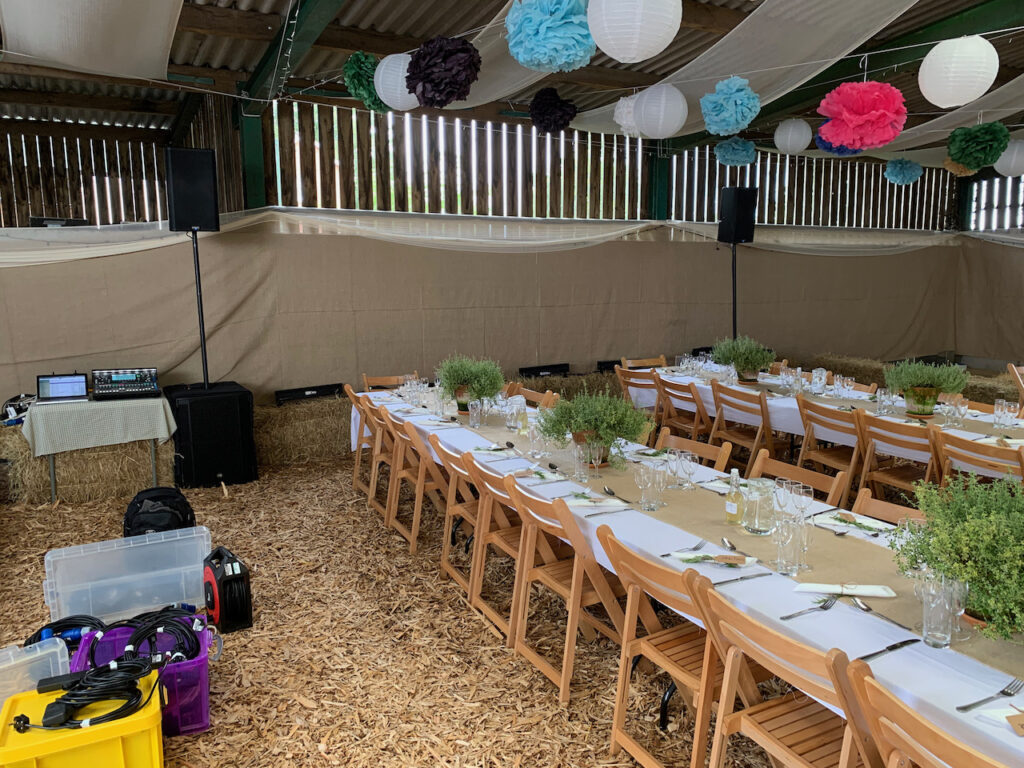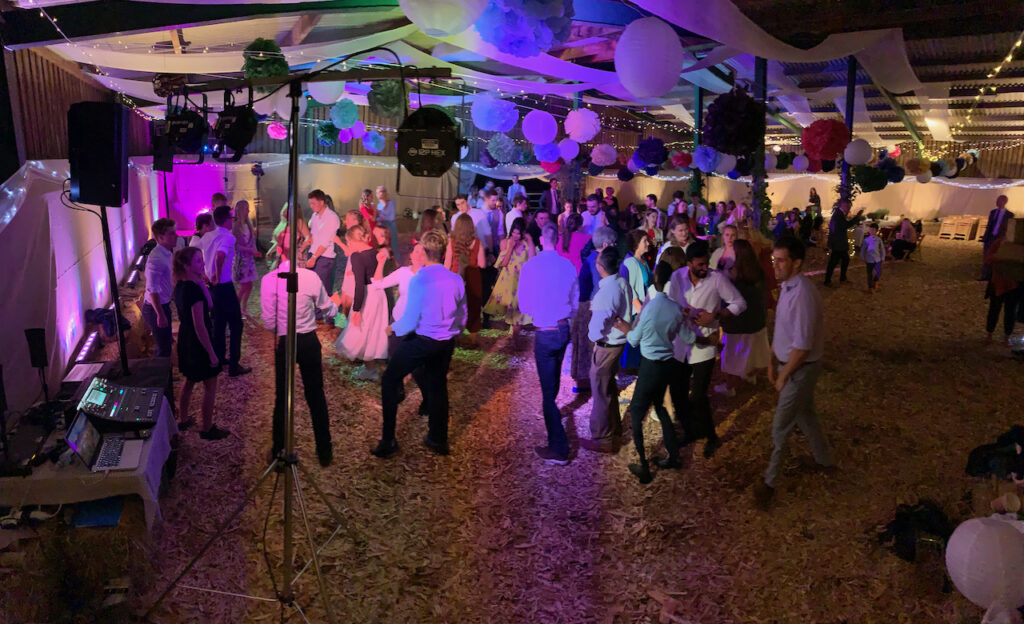 The Bride and Groom, or Guests, Perform
Sometimes I get requests from couples who want to perform music themselves, or have their family do so.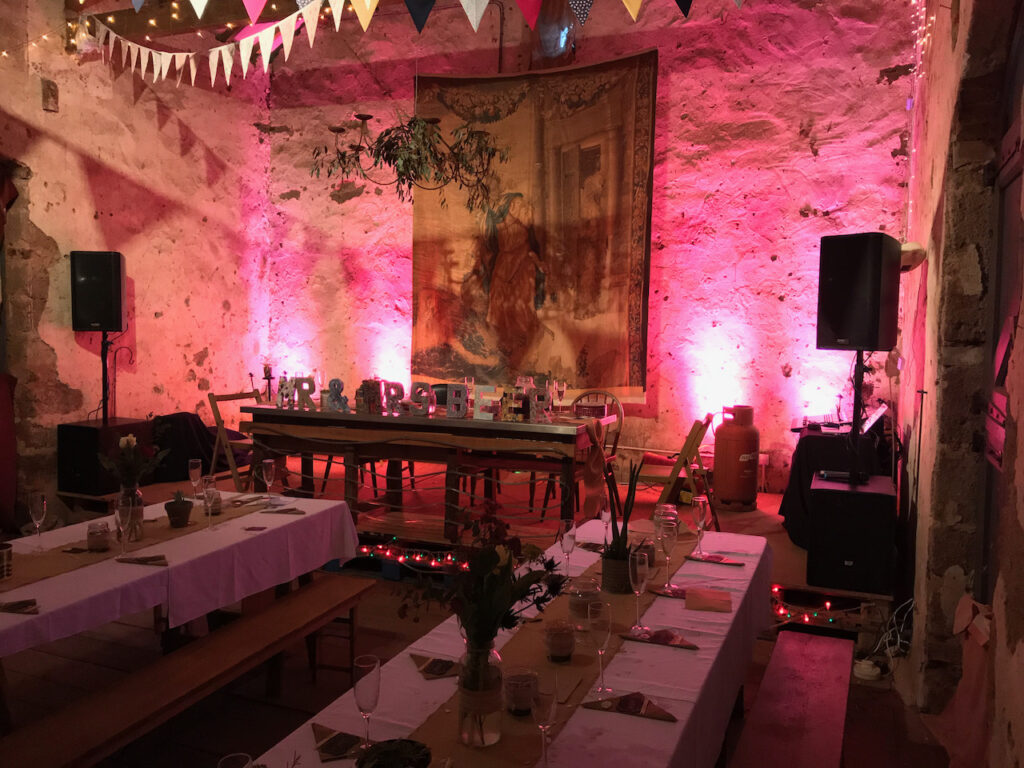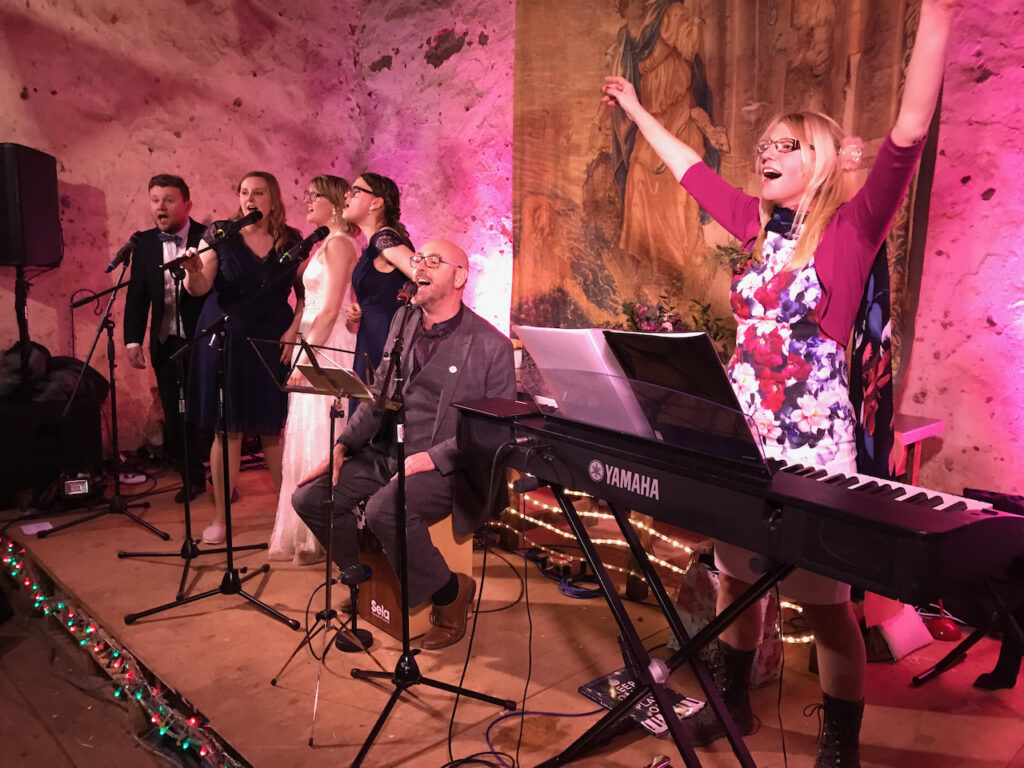 Last Words
Whatever you do, make sure that, on the big day, you delegate the co-ordination and running of operations. Give it to bridesmaids, groomsmen, trusted friends, hired-in specialists and venue staff. Your time on the day is valuable, and is probably best spent with your guests.
If you are going to programme your own music, or even perform it, don't leave the preparation to the last minute. If you do, the pressure and stress can spoil the enjoyment.
To get more inspiration and ideas, you might like to try the Hitched forums.
I'd love to talk over your options if you're planning your wedding entertainment for a reception in Devon – do contact me.
Chris