This page lists the kind of sound services, AV services and lighting I can undertake for you. See also minimum and maximum event sizes.
Normally, if you book me for your event, I'm present for the whole duration and will be constantly making sure that everything you've hired is working well.
Stage & Live Music Sound Services
PA for bands/artists (usually jazz, acoustic and function bands)
Charity and coffee-shop gigs
PA for stand-up comedy
PA for community events/discos/balls
Sound design, supply and operation for theatre
Wedding Reception Sound Services
High quality PA system for speeches
Background music for drinks receptions & mealtimes
Speakers for DIY wedding discos where you bring your own iPod/phone/laptop music (note: I still run the system for you, but the music choice is yours)
PA for musicians – family, friends or hired-in
(I can add stage lighting or disco lighting on top)
Read my blog post on your disco options
Corporate/Meeting Sound Services
Seminar, training and conference sound
Awards and presentation nights
Ceremonies
Corporate presentations and video shows
Political hustings
Debates
Outdoor Event PA Systems
Outdoor PA to cover large areas for speech and commentary, such as rallies, charity races, sports days
PA systems for live bands and music outdoors, e.g. festivals, garden parties, receptions
Waterproof PA systems that can keep working in the rain
Stage Lighting and Dance Floor Lighting
Temporary stage lighting (simple or animated)
Indoor/outdoor event flood-lighting
Mood lighting & colour-themed lighting
Basic theatre lighting
Dance-floor lighting – bright colours and moving lights
AV and Live Streaming
Live streaming of events (on YouTube, Facebook, Microsoft Teams etc.) with video mixing of cameras and the presentation slides
Video projectors and screens for PowerPoint/Keynote presentations
PowerPoint help
Video projectors to show films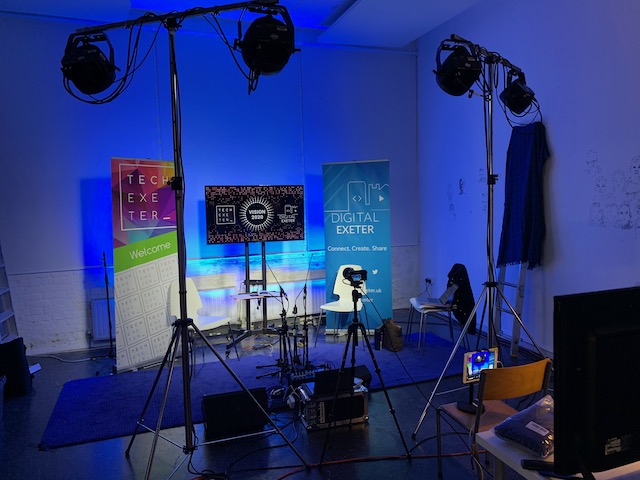 Read about the Tech Exeter conference streaming.
Sound Engineering Teaching
I can provide sound engineering lessons in Devon.
Examples
See my gigs album on Facebook